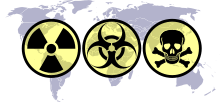 The drumbeat to military action in Syria is pounding away and getting louder each day. Officials claim that there is strong evidence of chemical weapons being used on civilians.
I'm not much for conspiracies. Show me evidence and I'll consider it. Lacking evidence I go with common sense until good information comes along. Despite assurances from the United States and a number of other countries that the Assad government used chemical weapons – I'm very doubtful about it.
Back to that common sense thing. Syria is winning the war against the rebels. The US has been very clear that our line in the sand was chemical weapons. Assad knows that the use of *any* WMD would bring an immediate response from the US military. It is simply not in his interest to use them — in fact it would be downright stupid to do so.
It does appear the weapons were used – so who did it? The only answer that makes sense is that the rebels used it themselves to provoke US military involvement. Although that sounds hard to believe it actually makes more sense. Assad has nothing to gain from chemical weapons – the rebels do.
The thing that still needs explaining is why the US is poised to get involved. Maybe the evidence does point to Assad. Maybe Obama is seeking to curry favor from McCain and other partially cooperative/sane republicans. Maybe international pressure to stop the slaughter is building up. I don't know. Getting involved in Syria is not in US interests. Neither was war with Iraq but we did it anyway.
By