Normally my Gazette column does not make it into the online edition. My latest column endorsing the police station override is online. It was a rather soft endorsement.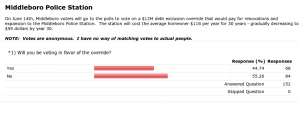 Several days before the column I put up a survey on line to get a feel for public opinion. The numbers were very close for a number of days – about 52% against to 48% in favor. In the last few days the numbers have shifted significantly and are currently running 55% against to 45% in favor. I'm not sure why there was a sudden shift but it seemed to happen after I added a disclaimer to the poll saying that I couldn't and wouldn't try to match votes to people. The poll is totally anonymous. That makes me wonder if what people are saying (or not saying) in public is different from what they will be voting for in the privacy of the voting booth.
I've seen things here and there from people who think that I track visitors to my blog and try to figure out who they are. It just ain't so. First of all it is nearly impossible to do unless you have signed up to my blog. If someone sent me an email very recently, I could probably figure out if they had also visited my blog. It is time consuming and not something I am interested in. Y'all can believe that or not but the poll is anonymous and I don't care who reads or doesn't read the blog.